Gracias Guy por la solución.
Thanks Guy for the solution.
Merci Guy pour la solution.
Siento haber tardado en publicar esta respuesta, los problemas técnicos lo han impedido hasta hoy.
I am sorry to have delayed publishing this answer, technical problems have prevented it until today.
Je suis désolé d'avoir retardé la publication de cette réponse, les problèmes techniques l'ont empêché jusqu'à aujourd'hui.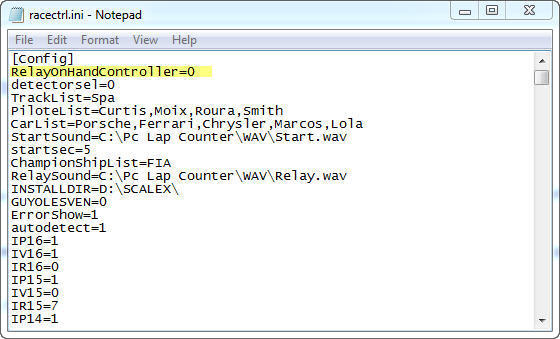 1.-Localizar un archivo llamado "racectrl.ini" en C:\pclapcounter\racectrl.ini
2.- Abrir el archivo con el bloc de notas y añadir la linea inicial con la siguiente orden:"RelayOnHandController=0". Respetar las letras mayúsculas.
3.- Guardar el archivo y abrir el programa PcLap
4.-En opciones seleccionar detección por LPT y en control de energía seleccionar la señal de paro en todos los carriles por el pin 2 (o el que estemos usando para comandar un único relé de corte).
5.-En nueva carrera, elegir carrera a vueltas y macar la opción de que todos los pilotos corren la mismas vueltas y terminan todas las vueltas.
1.-Locate a file called "racectrl.ini" in C: \ pclapcounter \ racectrl.ini
2.- Open the file with the notebook and add the initial line with the following order: "RelayOnHandController = 0". Respect the capital letters.
3.- Save the file and open the PcLap program
4.-In options select detection by LPT and in energy control select the stop signal in all the lanes by pin 2 (or the one we are using to command a single cut-off relay).
5.-In new race, choose race to laps and check the option that all riders run the same laps and finish all laps.
1.-Localisez un fichier appelé "racectrl.ini" dans C: \ pclapcounter \ racectrl.ini
2.- Ouvrir le fichier avec le cahier et ajouter la ligne initiale avec l'ordre suivant: "RelayOnHandController = 0". Respectez les majuscules.
3.- Enregistrer le fichier et ouvrir le programme PcLap
4.-Dans les options sélectionner la détection par LPT et dans le contrôle d'énergie sélectionner le signal d'arrêt dans toutes les voies par la broche 2 (ou celle que nous utilisons pour commander un seul relais de coupure).
5.-Dans la nouvelle course, choisissez la course aux tours et vérifiez l'option que tous les coureurs exécutent les mêmes tours et finissent tous les tours.
Este problema queda solucionado.
Ce problème est officiellement résolu.
This problem is officially solved.